Robert Koch (1843-1910)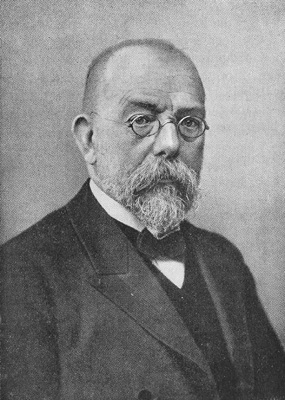 Robert Koch was born on December 11, 1843 in Clausthal (Clausthal-Zellerfeld, Harz).
He was the third son in a family of thirteen children and his father worked as a miner.
Studies and private life
11.12.1843
Born in Clausthal, Harz
16.01.1866
Doctorate in Göttingen
12.03.1866
Passes medical examinations in Hanover
1870/71
German-French war, duty in military hospitals
1880 - 1885
Councillor of the government at the Imperial Health Authority in Berlin
1885 - 1891
First professor for hygiene in Berlin, Friedrich Wilhelm University
1891 - 1904
Director of the Royal Prussian Institute for Infectious Diseases
1880 - 1910
Full member of the Imperial Health Authority
10.12.1905
Nobel Prize awarded in Stockholm, Sweden
27.05.1910
Died in Baden-Baden
Robert Koch suffered a severe heart attack at the beginning of April 1910 in Berlin and died on May 27, 1910 while staying
at a health resort in Baden-Baden. He was cremated there according to his own wishes and his ashes taken to Berlin.
Expeditions and congresses
The multitude of Robert Koch's expeditions to study infectious diseases and the congresses he attended indicate the breadth of his interests and the mobility of the researcher at a time when travelling was rather tedious.
| | | |
| --- | --- | --- |
| | 1883 - 1884 | Cholera in Egypt and India |
| | 1885 | Major Conference on medical service (Sanitätskonferenz) in Rome |
| | 1896 - 1897 | Cattle pest in South Africa |
| | 1897 | Plague in India |
| | 1897 - 1898 | Plague, malaria, Texas fever, and tsetse disease in East Africa |
| | 1898 | Malaria in Italy |
| | 1899 | Malaria and quinine in Italy |
| | 1899 - 1900 | Malaria in Batavia (Jakarta) and New Guinea |
| | 1901 | International Tuberculosis Congress in London |
| | 1901 - 1902 | Malaria in Italy and Istria (Brioni Islands) |
| | 1903 - 1904 | Coast fever and horse sickness in British South Africa |
| | 1904 - 1905 | Tsetse flies and trypanosomes in East Africa (private expedition) |
| | 1906 - 1907 | Sleeping sickness in East Africa |
| | 1908 | International Conference on Sleeping Sickness in London |
| | 1908 | International Tuberculosis Congress in Washington D.C. |